Fix Mac Apps Stuck on Installing
Top 8 Ways to Fix Mac Apps Stuck on Installing 2023
The macOS ecosystem includes useful apps and services to enhance your experience. While Apple offers a default App Store on Mac, some users download app files from third-party websites. The problem occurs when your Mac gets stuck installing apps. Before turning to an alternative app to work with, use the tricks below to fix app installation errors on your Mac.
Apple's software is not immune to problems. They may not be as large or frequent as those experienced by users of other platforms, but they exist nonetheless. If you're trying to update or install apps but the update refuses to start or you're stuck with downloads on the Mac App Store, try the following fixes.
If you have downloads stuck in the Mac App Store or updates that won't start, cancel them and try starting them again. Often, this will be enough to fix the problem. For whatever reason, the update request or the app ends up in a loop request. The Store app shows it's loading when nothing is actually happening.
The Mac App Store works with your Apple ID. You must sign in to the app to download other apps. If a download or update is stuck, try signing out and back in again.
To sign out of the Mac App Store, open the app and go to Store in the menu bar. Select the Sign Out option. After signing out, it's a good idea to restart your Mac and then sign back into the Mac App Store.
Normally, if you try to download an app that isn't available in the store in your country, the Mac App Store app will tell you that you can't download it. If the prompt doesn't appear, check that you're in the correct country store for your Apple ID. You'll need to look at your account information and then match the Mac App Store to the country it's currently in.
App installation can derail your work hours forever. The issue prevents you from accessing and updating apps on Mac You can always try an alternative app, but if the problem persists with all programs, check out the troubleshooting tips below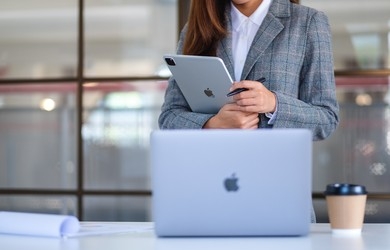 1. Wait for some time
If you have an entry-level Intel MacBook Air, it may take some time to install resource-hungry software like Microsoft Office, Photoshop, Lightroom, and more. Your MacBook has a low-end CPU and requires patience to install the app. The latest M-series Mac models have significantly improved app installation speed.
2. Be sure to close the app when prompted
When you update apps from the Mac App Store, the system first downloads the update file and installs it. Before completing the installation, macOS asks you to close the app. You can right-click the Mac app and select Exit. You can also force quit a Mac app from Activity Monitor.
Step 1: Press the Command + Space keyboard shortcut to launch Spotlight Search. Press the return key.
Step 2: Select an app that is stuck installing. Press the x symbol at the top and try again.
3. Check Mac storage
Is your Mac app downloaded but stuck on installing? Insufficient Mac storage often leads to such problems on your work machine. Here's how you can check and free up remaining storage on your Mac.
Step 1: Click on the Apple icon in the top-left corner. Select System Settings from the context menu.
Step 2: Select General from the left sidebar and select Storage from the right pane.
Step 3: You can check a detailed storage breakdown from the following menu.
If your Mac storage is almost full, use the recommendations to optimize the space You can upload media files to iCloud, move movies and TV shows you already want from Apple TV, and automatically empty the bin to free up space. Continue reading if your Mac apps are still stuck installing.
4. Check the network connection
You cannot download apps from the App Store unless you have an active internet connection. When you work with slow network speed on Mac, you may download a partial or malicious app file from the web. Installation of such apps is blocked.
You need to connect to a high-speed Wi-Fi network and try to download and install the app again.
Step 1: Click on the Control Center icon at the top-right of the menubar.
Step 2: Choose Wi-Fi network and connect to a fast one
You can run a speed test to check your connection speed.
5. Reinstall the app
Are you experiencing an installation error while updating existing apps on your Mac? You can remove the app and try downloading again.
Step 1: Open Finder on Mac. Select Applications from the sidebar.
Step 2: Right-click an app and move it to the bin.
If you're having trouble uninstalling the program, force quit the app and related processes from Activity Monitor (see steps above) and try again. After that, you can download the app from the App Store and complete the installation process.
6. Don't download apps from unverified sources
We recommend that you always visit the Mac App Store to download popular apps. If a particular app is not available in the App Store, use the official website to save the app file. It is recommended not to download apps from unverified sources. Files saved from unofficial websites may be corrupted or out of date and may cause installation errors.
7. Turn off anti-virus
Are you using a third-party anti-virus app on your Mac? This can block unverified apps from being installed on your Mac. You should disable such an anti-virus app and try again.
8. Update MacOS
If you're running an older macOS build, your Mac apps may get stuck installing.
Step 1: Go to General in Mac's System Settings (check the steps above).
Step 2: Select Software Update and install the latest macOS build.